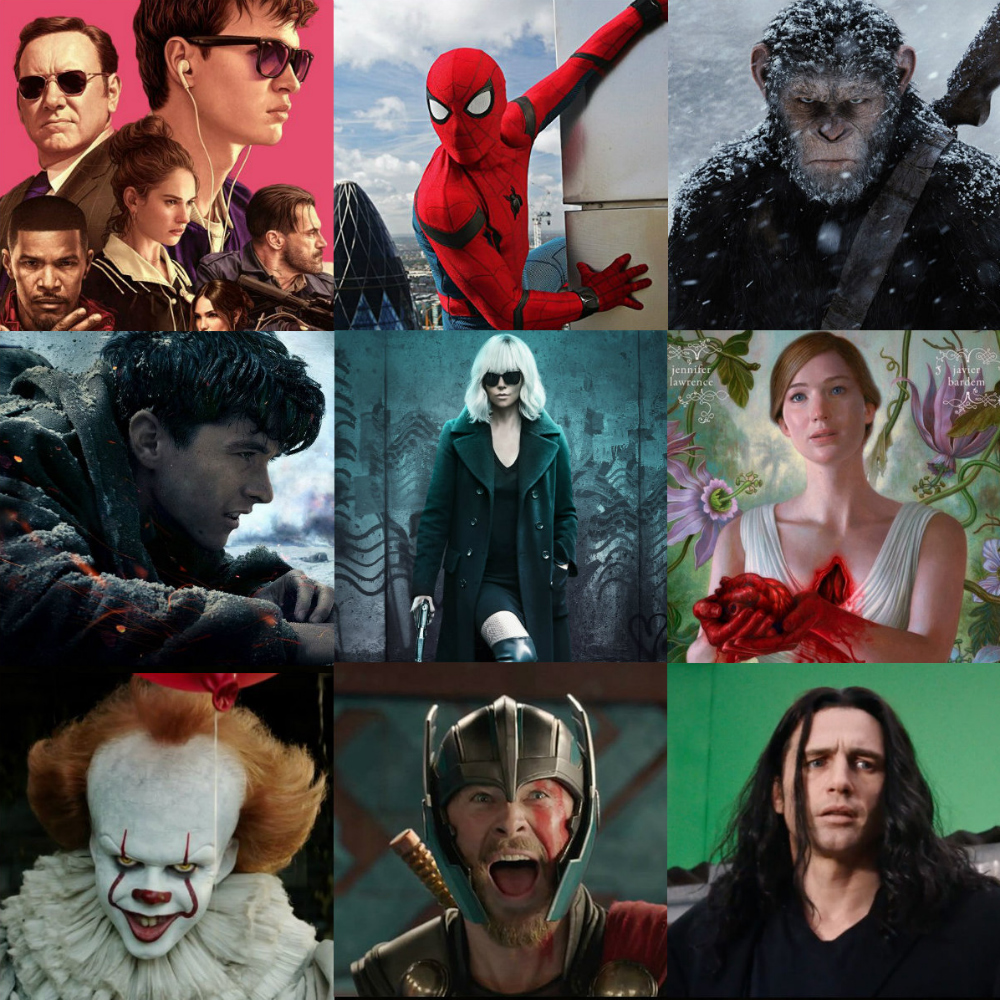 The second half of 2017 gave us blockbusters of wildly varying quality - from the artistic and commercial highs of Dunkirk and Baby Driver to the wildly misguided lows of Justice League and Geostorm. We also made time for some less mainstream fare, including Kumail Nanjiani's delightful The Big Sick, James Franco's hilarious The Disaster Artist and Darren Aronofsky's utterly batshit Mother!
Join us in this second half of our year-end special as we attempt to pitch quick-fire sequels to every movie we caught in the cinema between July and December. As before, spoiler warnings do apply to all the movies we describe in this episode, but we'll try to give you plenty of warning. 
Here are the movies featured in this episode (Star Wars fans, you're safe...)
00.00: Intro 
01.10: Baby Driver
05.40: Spider-Man: Homecoming
11.20: War for the Planet of the Apes
16.05: Dunkirk
18.40: Atomic Blonde
21.50: The Hitman's Bodyguard
24.20: The Big Sick
28.55: Detroit
33.20: Kingsman 2: The Golden Circle
36.50: Mother! 
41.00: Geostorm
45.45: It
47.30: Murder on the Orient Express
51.35: Thor: Ragnarok
54.00: Justice League
56.45: Suburbicon
59.35: The Disaster Artist
1.03.20: The Best and Worst Movies we saw in 2017
1.05.50: Episode 46 Preview 
We'll be back to our regularly scheduled programming on Friday 5th January. Thanks for supporting us through the first year of our show - here's to the next one!
-------
Every week on Beyond The Box Set, we watch a classic standalone movie and compete to pitch the most ridiculous sequel, prequel or spin-off ideas to bring them back to the big screen. Over the course of 2017 we've pitched sequels for beloved classics like Sideways, The Sixth Sense and The Good, The Bad & The Ugly, cult favourites such as Swiss Army Man, The Fifth Element and Scott Pilgrim vs. The World, plus more questionable fare including Deja Vu, Me Before You and Krampus. 
If you enjoy the show, please hit subscribe on your preferred podcasting platform to hear a new episode every Friday. Beyond The Box Set is available for free download and streaming on iTunes, Stitcher, aCast, Podbean, Pocket Casts, Youtube, Google Play and most of the other popular podcasting platforms.
Leaving us a review is the absolute best way to help our show to find new listeners, so if your new year's resolution is to be nicer to strangers on the internet, please consider throwing some nice words and a star or five in our general direction on any platform that allows for it. 
If you have a suggestion for a film you'd like to hear us cover - or a sequel idea of your own that you'd like us to shout out on air, you can contact us via Facebook, Twitter, Instagram, Google+ and Tumblr - or by leaving a comment under any blog post on our official website.